Minsk Margarine Plant

Minsk Margarine Plant is among the largest producers of fat and oil products in Belarus. A strong focus on advanced production technologies and traditions has served the company well over the 55 years of its history.
Today the enterprise manufactures over 80 descriptions of foodstuffs, the bulk of which are new products.
Minsk Margarine Plant offers:
- margarines, culinary and confectionery fat in bulk and foil-packed;
- mayonnaises (with fat content ranging from 20% to 75%);
- butter spreads: Lux (82.5% of butterfat), Krestyanskoye (72.5%), Domashneye (50%), chocolate butter, chocolate butter with nut flavour;
- Refined, deodorized and frozen out sunflower oil;
- Unrefined sunflower oil;
- Refined deodorized rapeseed oil;
- Flavoured rapeseed oil;
- Blended rapeseed-sunflower oil;
- Refined deodorized soy oil;
- Mayonnaise-type sauces: mushroom sauce, mustard sauce, Belarusian with Horseradish sauce, Chinese sauce, Thousand Islands and Tar-Tar;
- Ketchups: Ajika, Spicy, Classic, Barbecue, Tomato, Mild
- Horseradishes: Belarusian Classic, Belarusian with Lemon, Belarusian with Beet;
- Mustards: Savoury, Grainy, Mild, Mild with Nuts.
All the products of the company are marketed under the Zolotaya Kaplya (Golden Drop) brand marked with a logo Housewife's Gold Reserve.
Taking into consideration specific requirements to storage and packaging of fat and oil products, the company uses a wide variety of packaging materials. They include laminated and non-laminated plastic of various density which is used in the production of Doypack pouches for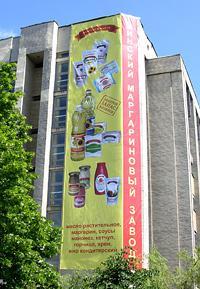 mayonnaise-type sauces and ketchups; jars for sauces, foil for margarine, etc.
The company employs a customized approach to packaging. Mayonnaise is packed into 200g and 250g Doypack pillow pouches, 450g and 900g bottles, 900g buckets and jars. Ketchup is packed into 250g Doypack pouches, 500g and 900g bottles. Doypack has been chosen by many companies as packaging for its advantages in preserving the products, and is the perfect format, ideal size to handle, easy to open and a great looking pack.
In 2006 the company introduced STB ISO 9001-2001 quality management system.
Contacts:
27 Kozlova Street, Minsk, 220037, Belarus
e-mail: mail@margarin.by
Reception
Phone: 294-10-15,
Phone/Fax: 294-56-45
Sales department
Phone: 294-00-25, 294-10-25,
Phone/Fax: 294-49-43
Marketing department:
Phone/Fax: 294-10-50